Social media has developed to become one of the most influential digital marketing techniques used today. However, managing social media activity is no simple task, specifically for a digital agency like you with multiple clients. This is where White Label Social Media Posting Services via Socinova come into the picture. Through our social media management technology and our professional team of quality content creators and writers, we can handle all of your clients' social media channels on your behalf. From Facebook posts and Twitter feeds to targeted text videos and Facebook ads, we will make sure that your social media activity hits the right audience at the right time to maximise the potential reach of your client's business through our branded platform.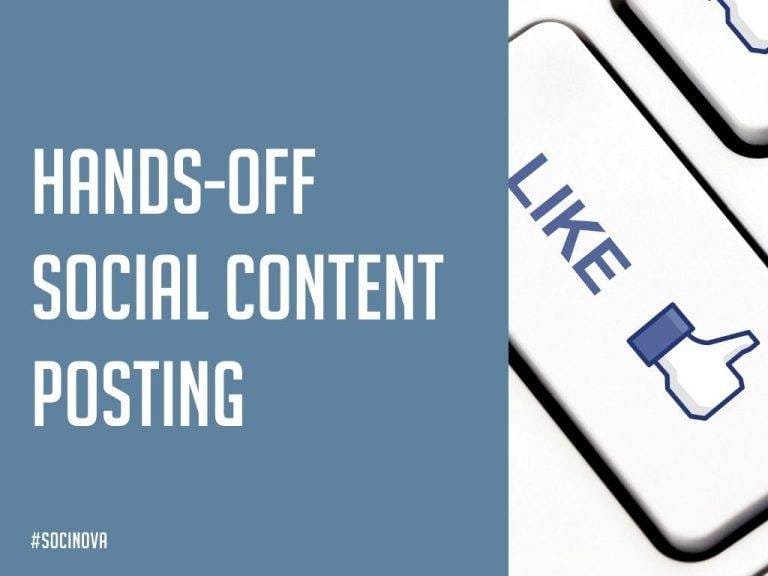 What are 'white label services'?
A white label social media posting service can be defined as a service that is provided by one company which is rebranded by other companies in such a way that it looks like their own production.
But is social media management really required? As it turns out – yes. A good business will typically have a basket full of great talent who are trained in diverse fields. However, they might not have enough resources or the manpower to handle weekly meetings, client calls, running stats and reports, and all of the other tasks that are included in the building and maintaining a good, strong social media presence. Even if they do find the perfectly equipped employee, they will not have enough work to make it a profitable step. Freelancers can be unreliable thereby ruling out outsourcing the job. Plus, they don't really do a good job of representing your brand for what it is as they are not really a part of it and they often quit when they get 'real jobs', leaving the business helpless. There are a lot of factors that play into this and that is where we come in. Instead of having an in-house person, any business can outsource their social media management to an agency like Socinova and rather focus on the other important aspects of their business.
Customers are on social media but are you targeting the right ones? Don't worry, we are here for that. Our white label social media posting and marketing experts understand how to use Facebook, Twitter, Instagram, LinkedIn, YouTube, Pinterest, and other social sites to reach those who might be interested in your client's product or services. We understand how social media platforms evolve with time and what really connects with users. The number of people using mobile devices to check their favourite social media sites is only increasing by the minute and it is an art to be able to grab their short attention spans and rise above all the noise. We are trained to give your clients a solid strategy to create a solid digital footprint, expand their network, and stay up to date with the customers. We are trained to be friendly, yet persuasive and most importantly, we know how to get the job done. Our white label social media posting strategies help provide that extra boost to your client's needs and we help them to learn the value of their social media presence.
How does White Label Social Media Posting work?
In simple words- we post content to your clients' social media profiles without letting them know that it's done by us. They think as if you are the one doing the posting. Our white label social media posting services can cover: Search engine optimization (SEO), Paid Search Marketing (SEM/PPC), Social Media Marketing (SMM), and Reputation Management. Ultimately, you're buying a white label company's services and presenting them to the customer under your brand name. Whether you want to use one of our services or all of them, we will perform the services and make your brand reach its full potential. Our job is to manage all your social media marketing, assess the market, competition, target groups, form creative solutions, build brand value and relations, provide reports, manage meetings and client calls, take customer reviews and implement newer strategies to eradicate any existing problems and basically show your brand in the best light possible.
Following are some simple strategies that you can expect from us at Socinova:
We will work closely with your client and understand the tone they want their social media posts to have
We will target different groups of people based on their preferred social media platforms chosen for posting
Most importantly, we will work hand in hand with your client, never breach their trust and always represent them in the best light possible
We will use the audience data to create captivating social media posts that will reach and resonate with a specific audience
We will reach key influencers on your client's behalf, build relationships through social media and create ground-breaking content
We will assess the customer base, find the right target group and analyse their needs
We will work with your client regularly and keep them appraised of the progress made on social media on your behalf
We will prove that social media activities are generating real results for clients with some of the most advanced reporting tools available
We will measure and report on the social media efforts using tools and analyse what matters most to the company
Features of Socinova's White Label Social Media Posting Services
There are literally tens of benefits that you and your client get with Socinova's social media posting services. Here are just a few of them!
Unmatched level of personalized content
All the social media posts we create for your clients will be specifically created for their brand. You'll find that the level of personalisation we provide when doing graphic design and content writing for social media is simply unmatched by anyone else!
Friendly team and workflows
We will create workflows for your team and help them collaborate more efficiently on content with clients. Once we know what your target client wants, we will go ahead with the idea. We will also constantly keep you updated on the progress we make regarding social media posting. This will also help to manage social media for multiple brands.
Prove your worth with insightful reports
We will help you prove that your social media posting services are generating effective and real outcomes for your clients with advance reporting tools. Your clients will not only be aware of the outcome but they will most definitely be awe-struck with the presentation and precise informative reports that showcase your achievements and their growth.
Provide clients with adequate security to share their social logins
Adding new clients and sharing information with them such as login ids and passwords can be a hassle and also a threat to security. We will help to remove the unnecessary sharing of sensitive information and streamline the process by helping clients to securely connect their profiles through our third party content posting app.
Keep your client's content flowing
Scheduling makes it easy to promote evergreen content and allows for consistency in keeping your client's social media profiles active and lively. We will constantly create new social media content for your clients to keep it flowing. You won't have to worry about a thing!
Manage content on a shared calendar
We will provide you with one shared calendar to view all of your social media activity, past and present, and also manage your future content for better and informed outcomes. The easy to use interface will enable you to visualise your content in the monthly view.
All your social streams in one place
We will help you keep all of your content in one place, thereby making it easier for you to manage everything at once precisely and with no confusion. Handle all of your scheduled social media content for Twitter, Facebook, Instagram, and LinkedIn in real-time. Gain insights into whom you're engaging with by accessing detailed social profile information.
Get content suggestions
We provide you with fresh and engaging content suggestions regularly. Simply choose topics your client cares about and we will make suggestions on what content is most likely to generate higher follower engagement. We will make sure that it exactly hits the right kind of target audience.
Create and publish content on the move
If you choose, you can publish posts and photos to Facebook, Twitter, LinkedIn, etc. using our dashboard from your mobile as well! Compose and save unfinished posts if you prefer to finish them later or assign them to team members for completion.
Sales support
We help you close more clients in the entire process! We will help you with the sales process. When we find a prospect, who is interested in white label social posting services that we're providing on your behalf, we will reach out to them. Our strategist will put together research on the prospect and their top 2-3 competitors to have a preliminary conversation with the prospect about their goals/objectives, and how we can help them. This entire experience happens under your brand name! They'll never know that they're talking with a Socinova representative, they will instead think they are talking to your company!
Team up and produce great content
We will manage tasks and collaborate with ease when creating posts for your client's social media calendar. Teaming up with the client and working closely with them will help us create the content they need and make sure that everyone's needs are met.
How does white label/private label social media posting services work at Socinova in particular?
We will be providing white label social media posting or any other service to your client on your behalf. We will not only be the middlemen, catering to your client needs along with yours, but we will also reduce the hassle of you having to rush back and forth between us and your clients. It is our motto that customer is king and it is far better for the customer if they get to talk to the professional that is working on their social media marketing campaigns. So Socinova is set up to be and prefers to be a front-facing white label social media posting provider. To get started with us, all you need to do is sign up as a reseller and then we'll walk you through the process.
Here's more info about our white label social media posting services:
The 3-step process for our White Label Social Media Posting Services
1. You position the sales video on your website and/or on social media pages along with any other images/text you like to help you make sales.
2. Decide what monthly fee you wish to charge the clients for the service, have them pay you directly, then order the service from us at Socinova using our affordable reseller packages
3. We offer the regular white label social media posting service quietly in the background, your clients will never know we even exist. They'll surely think that you are offering the service and this way you can easily watch your profits roll in every month.
We also offer access to our social media posting calendar for both you and your client!
Will you get a dedicated white label social media posting specialist?
Yes. You'll be allotted a dedicated white label social media content specialist whom you can contact anytime regarding your accounts.
How many times will posting be done on your clients' social media accounts?
That is contingent on the package you have with us, but generally we at Socinova post 5-7 times a week to your social networks. This includes personalised content to help grow your client's brand on social media.
How will we know what to post on your social media accounts?
We at Socinova have been offering white label social media posting services for more than 6 years. We have handled more than a 1,000 individual brand accounts from over 25+ industries. So that shows that we are experienced enough when it comes to fresh and exciting content. Plus, our professional team of social media managers do extensive research for all the clients to understand which kind of content will be ideal.
What outcomes are be expected from the white label social media posting service?
The biggest advantage is the professional branding that will be done for you. Your clients will love seeing the professional, attractive content being posted to their social media accounts. Along with professional branding, our white label social media posting services will also advance your brand's engagement on social media and create more website traffic. All this will ultimately help grow your sales.
How do you start White Label Social Media Posting with Socinova?
It's as simple as registering on our resellers page to be a white label social media posting reseller. Once you register, we will get in touch with you and invite you to our Accounts dashboard to get started. You do not have to sign any contracts. You also need not have a minimum number of clients to register with us. You can register as a reseller for free. You can learn more about our services on the Reseller FAQ page.
If you have any questions or comments, please don't hesitate to call, email or WhatsApp us!
Reviews from Facebook and Google
This is an expert team of social media and marketing professionals. Highly recommend for start up and small businesses that want to jump start their marketing efforts.
Vedarth Deshpande and his team are very tremendous to work with! Very responsive to social media suggestions and recommendations and positively involves his clients in the process to provide the best quality service · ️
Socinova is an excellent company. We've worked with them for over a year now and they have been very professional and their creative ads have generated our company hundreds of leads!!
I've been working with Socinova for only a few months now but have seen an increase in social media followers, likes, comments and most important…leads! They are highly responsive, professional and affordable. I highly recommend them!
Vedarth is wonderful to work with and has been great on many projects. He is able to deliver quality & communication.
Vedarth as done a wonderful job accommodating my businesses needs. I would highly recommend this company's services.
I recommend Socianova to all my friends who say social media marketing is too hard to do while running a business! Premium work at affordable prices
Vedarth & his team were fantastic to deal with! Highly recommend. Thanks for everything !
Professional, and knowledgeable. Always willing to help as much as possible to ensure your needs are met. Definintely would recommend to anyone.
Vedarth as done a wonderful job accommodating my businesses needs. I would highly recommend this company's services.
Great company! High quality posts and social media content. Always willing to help with a quick response time. Best value for the money for all social media needs that I have encountered.
Great Service, Reliable, Timely responses and reply, Always willing to work with you to fit all your needs. would recommend to anyone.
We Also Have Lots of Other Services that You Can Resell!