Many local businesses today are focusing on growing their online presence. Be it a small startup or an established company. Search engine optimization is now standard strategy companies use to target customers from a particular area. But what if you can attract customers who can directly walk into your store?
Introducing Hyperlocal SEO! Hyperlocal SEO can help boost foot traffic to your business. Suppose you have heard about 'local SEO' as a concept. In that case, hyperlocal SEO is a similar optimization for smaller, more specialized areas like certain neighborhoods, streets, and locations close to well-known landmarks.
Why is SEO important for small businesses?
Search engine optimization is crucial since it gives you subject-matter authority, increases website traffic, and assists your business in growing organically. Unfortunately, only 36% of small firms have an SEO plan.
A small business owner may not have much capital to invest in traditional marketing strategies like billboards, broadcasting, print ads, or event marketing.
On the contrary, investing in SEO is cheaper and can benefit your company's ability to generate leads, establish credibility, and increase return on investment.
What do you mean by hyperlocal?
Hyperlocal information concentrates on a well-defined locality. It is primarily concerned with the issues faced by its residents. Hyper localized marketing helps people get a quick solution in their nearby location with a single search.
What is hyperlocal targeting?
Focusing on potential clients in a small geographical area, sometimes only a few blocks or streets, is known as hyperlocal targeting or marketing. This method is frequently used to target smartphone users completing "near me" searches.
Hyperlocal Digital Marketing:
Hyperlocal digital marketing helps customers find goods and services on their mobile devices. Customers can then visit or contact the business through a call-to-action ad with the business's phone number and a map showing their location.
For example: Are you searching for a social media management company near your area? The below screenshot shows how hyperlocal targeting helps customers find your business on Google.
With hyperlocal SEO, you make your customers' jobs easier! In addition, it's easier to compete in the local market than in a national one, increasing your chances of success.
Hyperlocal SEO is a perfect solution if you own a local shop, restaurant, or delivery business.
In a hyperlocal content approach, you're explicitly aiming your marketing efforts at clients in a small, constrained area. Hyperlocal content is 'effective geo-specific content' focused on a niche in a particular locality. Specific locales, such as neighborhoods, blocks, and even a particular street, can be observed at this level of intensity.
Four reasons why hyperlocal SEO is essential for your local business:
Location-based targeting: The keywords used are niche and define an exact location. This helps the business owner get more local users/customers. The probability of building a strong online reputation is high.
Improved Google rankings: Google has started tracking consumers' mobile behaviors as they often utilize terms like "close to me" or "near me" when looking for local companies.
Hyperlocal keywords for hyperlocal SEO: Your location targeting can improve using Google search and Autocomplete. Using local languages, phrases, and geographic locations in hyperlocal content can boost local reach and presence.
Google My Business is the key: GMB can greatly help build a hyperlocal campaign for local businesses.
Tips to Help Your Small Business Rank in Hyperlocal Search Results
1. Select the most effective hyperlocal keywords for your company.
It can be challenging to choose the right keywords for a specific niche. The Google Autocomplete feature helps you find out the highest searched phrases or keywords on Google. You will see relevant search phrases as you proceed based on what you are entering in.
You may also find several term suggestions in the Google Keyword Planner, which is part of Google Ads.
2. Verify and set up Google My Business account for your business
Google crawls much of the information you list in your Google Business profile. For example, your business hours, website address, reviews, images, posts, location, and more will all be included in your Google Business listing.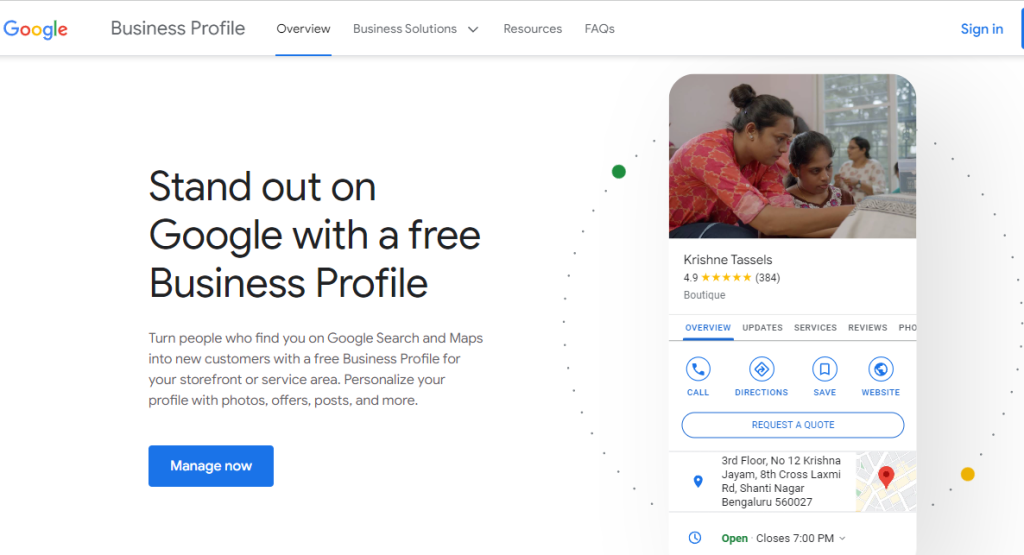 3. Include hyperlocal keywords on your website
Include hyperlocal keyword phrases in your metadata, titles, headings, picture alt text, etc., that search engines like Google will crawl to determine your location. These keywords are the same terms you've selected in the first point above.
4. Signing up for local business directories
Like Google business profile listing, you can enlist your local business on other business directories like Yahoo, Facebook, etc. You can include a business name, address, contact, website URL, description, social accounts, and other media during the business listing. Check some powerful business listing platforms here.
5. Highlight your business's location on Google Maps
A Google Maps listing can help customers easily reach your location and contact you directly.
6. Think about the Voice Search Optimization
Do you use Alexa? Google Assistant? Or maybe Siri?
Since 2020, more than 50% of people have started using voice searches rather than typing. You can benefit from voice search by:
Brainstorming the search-related query
Chalking out the long-tail keywords (variations & questions)
Creating voice trends like near me, close by, and nearby
Create actions in Google apps and custom skills in Alexa
7. Getting positive reviews for hyperlocal marketing success
Encourage your happy customers to leave reviews about your business. According to a survey, 63.6% of the customers check the reviews and ratings online on Google before visiting a store.
8. Optimizing the hyperlocal content
Once you create your niche-based content, it's time to work on some details!
Focusing on location-based captions and hashtags can gear up the engagement rate of the content. Also, the posts rank up when customers search for the product or service in the locality.
9. Keep your website mobile-friendly
In this trend of micro-moments, people are dependent on their mobile phones for every other need. Hence, it makes sense to keep your website mobile-friendly so customers can get a consistent experience there.
Knowing how to optimize for hyperlocal SEO is important. But you should also understand the factors that steer the hyperlocal SEO algorithm.
What are the factors that help hyperlocal SEO algorithm work?
People who search for products or services (for example, when they enter "near me" in their query") get tailored results to their location. The local results algorithm ranks the listing according to Maps or Search.
Three main factors help hyperlocal SEO algorithms:
Proximity: Depends on how near the searcher is to the company or business
Relevance: Answers if the business is offering exactly what the customer wants
Prominence: Which business is popular and most preferred by customers in the local area
Have you heard about the local three-pack?
Google is emphasizing local search results. It offers a three-result section based upon the above factors. The results are shown on a map like this:
The better your Google listing, the higher the chances of getting noticed by customers!
Hyper Local Marketing in 2022 & Beyond
Hyperlocal e-commerce is projected to increase by 52% to reach 214 million by 2022. As a result, there will be a massive demand for hyperlocal delivery. The same reason gave rise to hyperlocal delivery services.
With the recent rise in QR code marketing, businesses may incorporate QR codes for customers to scan directly to explore their portfolio, website, and social media.
The coming years will undoubtedly bring tremendous opportunities for hyperlocal businesses. If you think your business model suits the hyperlocal scenario, it's the right time to go live! People are increasingly shifting from offline to online commerce.
From a digital marketer's perspective, hyperlocal evolution is perfect as local business owners can easily connect with their customers nearby and provide the right solutions. Business owners must adapt to hyperlocal because Google is listening and guiding customers!
Written by Ashay Chandekar from Socinova. Images have the copyrights of the respective sources.