Social media marketing is now considered as a direct influencer for the majority of the purchase decisions online. Social media marketing helps brands with increased visibility, better brand reputation, customer loyalty, and an easier way to communicate new ideas, in addition to getting direct and clear interaction with potential customers. One of the biggest benefits of social media marketing is the possibility of getting continuous feedback from customers / users, and in return, offering them a chance to interact with the company's products, services, ideas, and customers.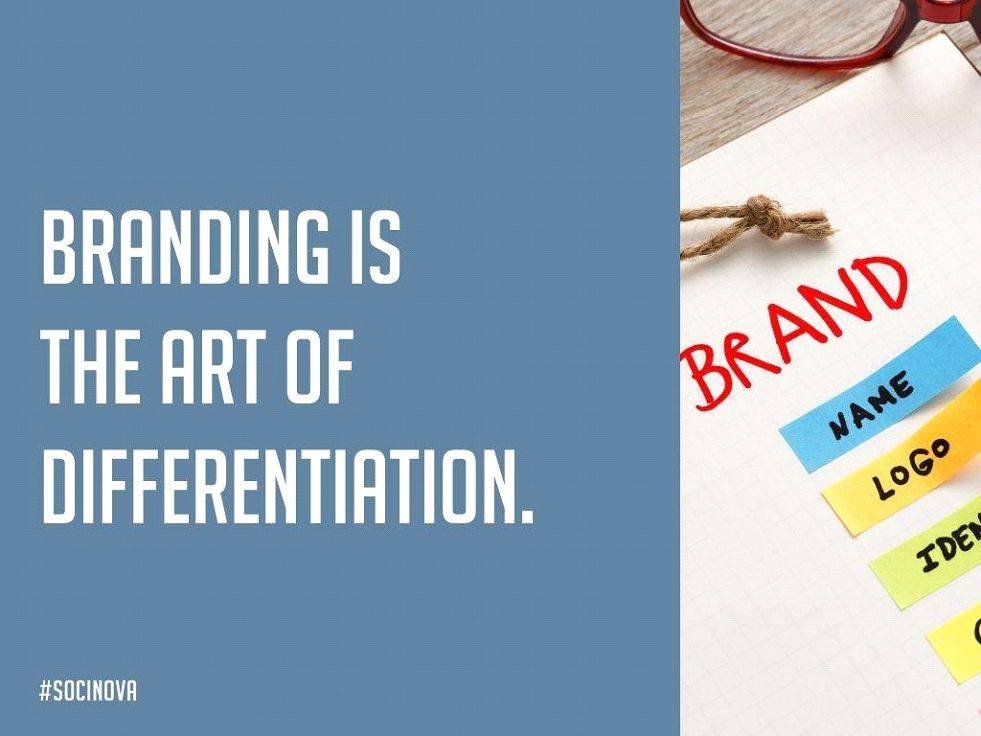 Social media branding is an integral part of the overall social media marketing strategy and with Socinova, you can have your social media branding and rebranding taken care of, especially for startups and small businesses. Socinova's social media branding services help you gain increased brand awareness and customer acquisition. With the increasing use of mobile gadgets and multiple social networking sites dominating the internet, users now have their own territory over the web through social media.
Why Do Social Media Branding & Rebranding Services Matter for Your Business?
Social media branding paves the way for you to maximize brand awareness for free
Social media branding & rebranding services offer you new opportunities and provide insights into the audience's opinions
Social media lets your customers trust your brand and build a network of qualified leads
Social media branding services help you find new customers and expand your reach
Social media can help increase the website traffic of your business
Social media lets you distribute content easier and faster
What is Social Media Branding for a Business?
A social media branding strategy is created to deliver the right brand message on the social platforms upon which content is built and shared. Social media branding lets you flaunt your business' values, characteristics, and attributes together with a marketing strategy to connect with potential leads and customers worldwide. Being one of the easiest yet most challenging platforms in marketing, the social media world paves the way for reaching prospects and customers around the world. With your brand's presence on social media, you can build authority & recognition over your digital business and gain access to various potential resources. Eventually, making fortunes becomes easy for your business if your presence turns heads and grabs the attention of your audiences' eyes.
Socinova specializes in creating a strong connection between your branding and marketing strategy with our social media branding services.
We understand your business niche and identify which social media network has the most influence. Once our research is complete, we start setting up profiles that reflect your organizational values, characteristics, and attributes.
Our Facebook branding strategy starts with identifying the right customer base from a pool of diversified users that helps your branding campaign. We create and customize your Facebook and augment it for better performance with customized graphics that talk about your business and your personality, and make it turn heads.
An instant information platform like Twitter is used for distributing your content and create a brand image for global audiences. We create and augment your Twitter profile with personalized graphics for optimum brand visibility.
We use LinkedIn that has more than 30 million businesses to present and connect your business with them. LinkedIn branding means success for your business in terms of making connections and getting more visibility.
We know YouTube and how it can be helpful in branding your business. YouTube is indeed for entertainment but your products and services can rock your customers with engaging videos and we have got a plan.
Many of us say the design is the only element that matters in good branding, but we also believe in good content, which makes for a strong branding strategy. With Socinova, you get keyword rich content for your social media profiles and websites. This branding strategy is useful for search engine marketing and SEO which will help your business grow in the long term.
Get Social Media Branding the Socinova Way
The world is now connected 24/7 through the internet. It's now important to have an expert social media team at your service that understands your brand's vision. Socinova's team of robust professionals helps create branding campaigns that convey your story customized to touch your customer's minds while meeting the sales targets. Is your brand social enough? Your business profiles on Facebook and Instagram are actually the true face of your brand for your online customers. At Socinova, we specialize in social media branding, and end-to-end social media management for B2B, B2C small businesses, and public figures. We are a team of young, passionate, and creative professionals comprised of brand consultants, creative copywriters, expert graphic designers, and thoughtful social media analysts who know where to post, what to post, and whom to target. Our social media branding and rebranding services are comprehensive. They include:
A dedicated team of digital brand managers
Integrating brand pages around various social media platforms
Creating & setting up your Facebook page, Business Manager and Ads account
Defining the target audience for different promotions
Preparing a strategic post mix
Defining the design tone for posts that matches social media policies & your brand guidelines
About Us tab that acts as a microsite on Facebook & other social networks
Setting up the right permissions on the social pages
Creating suitable brand-related hashtags and identifying high traffic hashtags for Instagram
Cover banner + profile picture designs , and custom social media links
Initial reputation management by handling negative feedback, responding to or handling negative comments and adding positive feedback
Managing reviews on Facebook
Creative visual/gif posts for Facebook & Instagram
Cover photo updates
Festive & special days wishes
Response Management
Contest and campaign ideas every month
Organic activity for increasing followers on Instagram
Usage of relevant, high-traffic, and branded hashtags
(The above-mentioned services are a part of our select standard and customizable plans, please read the details of our packages thoroughly before subscribing.)
Social Media Branding from Socinova
We are a one-stop solution provider for the branding strategy and execution of social media marketing for various brands, including yours. We are a team of digital experts offering easy yet measurable results that result in quick ROI. We are the pioneers in the affordable social media management market. Our basic social media design and branding strategy includes:
Social media setup
Custom graphics design
Initial content strategy
Design is the internal connecting force for your brand that makes it unforgettable. Our strong team of graphic designers & illustrators come with huge experience and strengths, resulting in creating ideas that radiate creativity. Our clients feel loved getting things done from Socinova. Our team of graphic illustrators is a powerhouse of talent and creativity. We master designing:
Brand identity
Custom illustrations and infographics
Regular reports
Presentations
(We provide the above mentioned services through our custom plans. Please schedule a call with one of our managers and get your personalized social media branding or rebranding proposal!)
How do we do social media rebranding?
Social media rebranding is all about the strategy, and it's important to get it right the first time. Our affordable social media plans work along with your brand image and the legacy you want to create with your brand. If you are trying to change the face of your business, you need to have a social media rebranding strategy in place. Here's a quick sneak peek into how do we social media rebranding for your startup or a small business.
When it is about creating your brand message and inform your audience about your social media rebranding, we take it seriously. Very seriously. Social media rebranding is letting your audience know about your brand changing its face. By establishing a message, we directly craft your content and visuals. Depending on the forte or niche of your business, we carry out this social media rebranding campaign, making sure your message will be unique and different from the rest of your competition.
'We are not changing, just the looks will be different. Our services, values, commitments, and customers remain our top priorities.'
'We are reimagining what a _____ (your industry) business should be. Starting January 2022, we are adopting technology and AI into our everyday operations. So we're rebranding ourselves to reflect the new tech-savvy nature of our company culture!"
"Change can be good! Introducing ____ 2.0!"
It's our graphic designing team that shines here! With the proper guidance of our creative team, we update your social media profiles to reflect how your new brand will look! Of course, we don't make it look too gaudy because you want your customers, both current and prospective, to recognize you.
Social media graphics we update:
Social media banners
Profile pictures/logos
Post graphics
Imagery: We decide and discuss what images to post. If you want more fun and casual presence, we post pictures from your company's happy hours and parties! If you want your visuals to be branded and more about clients, we deliver some exclusive templates to highlight your projects and offerings. Colors: Need help with the color palette? Besides just brand colors, we take of your accent colors too. We make sure they are different from season to season or depending on the type of posts.
Our content marketing experts determine the general content changes, and our branding specialists & writers create the new copy. We thoroughly decide different types of content and topics your new brand should have on each social platform.
Here are a few examples of topics we focus on when creating content for your social media rebranding purposes.
LinkedIn
Topics: Industry trends, business best practices, client work, etc.
Content Type: Blog posts, articles, case studies, whitepapers, etc.
Instagram
Topics: Industry trends, projects, company culture, etc.
Content Type: Eye-catching graphics, videos, galleries (multiple pictures on one post), staff spotlight posts, etc.
Facebook
Topics: Industry trends, company updates, client work, events, etc.
Content Type: Blog posts, employee spotlights, event promotions, e-books, case studies, etc.
Twitter
Topics: Industry trends, company updates, holiday posts, any event reminders, etc.
Content Type: Videos, short reminder tweets, branded hashtags, etc.
As you are rebranding with a new image, you can't survive on the same old content! We strengthen the power of your content and repurpose your assets.
Stay on top of the competition with Socinova!
Social media rebranding doesn't happen on its own. It definitely won't continue to run on itself. Staying organized and using the help of a social media branding agency is key when it comes to handling rebranding and running social media campaigns. Socinova helps you create useful content, and schedule it for maximum output through your social media accounts. So, get ready to have a strong plan of action that can work wonders!
Social media branding & rebranding is easier to say and harder to handle. And today, it's more overwhelming than ever. With an agency like Socinova, you get a marketing and branding partner with years of experience providing logical solutions that make sense for clients in several different industries. Reach out to us today!
Reviews from Facebook and Google
This is an expert team of social media and marketing professionals. Highly recommend for start up and small businesses that want to jump start their marketing efforts.
Vedarth Deshpande and his team are very tremendous to work with! Very responsive to social media suggestions and recommendations and positively involves his clients in the process to provide the best quality service · ️
Socinova is an excellent company. We've worked with them for over a year now and they have been very professional and their creative ads have generated our company hundreds of leads!!
I've been working with Socinova for only a few months now but have seen an increase in social media followers, likes, comments and most important…leads! They are highly responsive, professional and affordable. I highly recommend them!
Vedarth is wonderful to work with and has been great on many projects. He is able to deliver quality & communication.
Vedarth as done a wonderful job accommodating my businesses needs. I would highly recommend this company's services.
I recommend Socianova to all my friends who say social media marketing is too hard to do while running a business! Premium work at affordable prices
Vedarth & his team were fantastic to deal with! Highly recommend. Thanks for everything !
Professional, and knowledgeable. Always willing to help as much as possible to ensure your needs are met. Definintely would recommend to anyone.
Vedarth as done a wonderful job accommodating my businesses needs. I would highly recommend this company's services.
Great company! High quality posts and social media content. Always willing to help with a quick response time. Best value for the money for all social media needs that I have encountered.
Great Service, Reliable, Timely responses and reply, Always willing to work with you to fit all your needs. would recommend to anyone.
Social Media Management Packages Starting $99/mo