In today's digital age, social media has become an essential tool for professionals in the creative industry, including bridal & wedding hair stylists. One platform that stands out for showcasing your bridal makeup work is Instagram.
If you're looking to get noticed by more potential clients, Instagram is a fantastic place to showcase your work and build your bridal styling business online.
Every user that scrolls through Instagram can be your potential client. Users continuously search for trending hairstyles, bridal makeup artists, bridal stylists, etc.
So it is important that you design your Instagram profile in such a way that it works as the portfolio of bridal styling work you have done.
Here are the 5 brilliant ways in which you can optimize your Instagram profile to make it visually appealing & effective as a portfolio.
1. Using Instagram Bio as Your Portfolio Cover Letter
Whenever a user lands on your Instagram profile, the first thing they see is your bio. So, it is important that your bio summarizes your goals, passions, and expertise in just a few sentences.
Image credit: https://www.instagram.com/bridal_hairstylist/
Be clear about the type of clients you serve, where to contact to book an appointment, and your website clickable link.
Keep the username the same as the salon name or your name, and mention the updated location of your physical salon and the areas where your services can be availed.
2. Use Your Feed as a Visual Instagram Portfolio
You should be clear on what kind of clients you want to attract. It is important that if a user lands on your page, the posts on your profile should be self-communicating.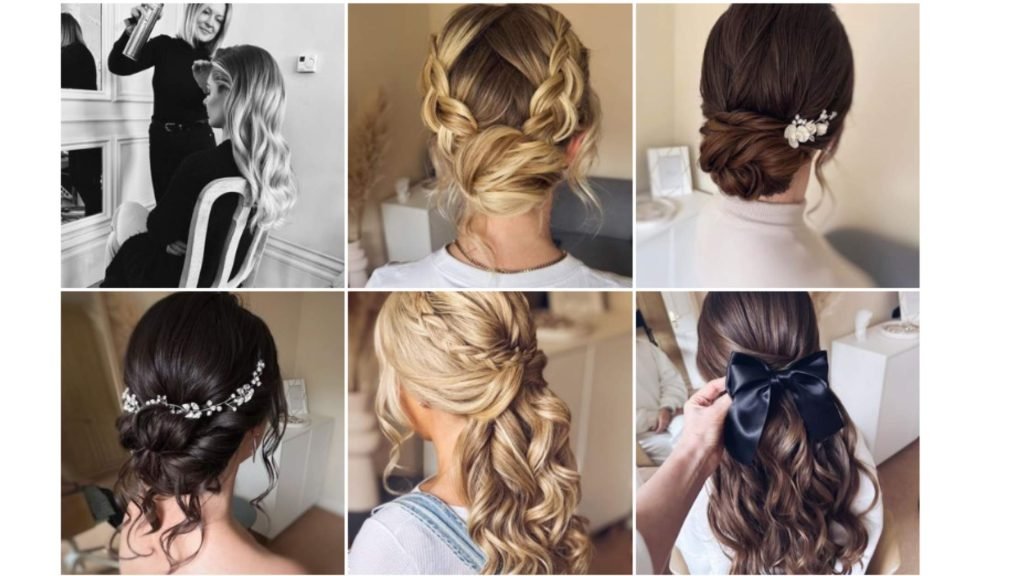 Image credit: https://www.instagram.com/bridal_hairstylist/
You can add:
Pictures of your previous work
Photos of you while designing bridal hairstyles
Latest trends in wedding hairstyles & makeup
Video feedback from your previous clients
Curate your portfolio in a way that fully encompasses and portrays your work best. Remember, your creativity is valuable. Display it for the world to see.
3. Create Instagram Highlights for Bridal Inspiration
Instagram Highlights are an effective way to categorize and feature your best bridal styling work. Create dedicated highlight albums for various themes, such as "Classic Bridal Looks," "Boho Chic," or "Glamorous Makeup."
Image credit: https://www.instagram.com/arpitakarania/
Organize your highlights in a way that showcases the diversity of your portfolio.
Ensure that each highlight reel contains a collection of your finest work, with interesting covers to create an urge for the user to explore more.
4. Switch to a Professional Account for Enhanced Insights
One of the advantages of Instagram's professional account feature is access to valuable insights.
By switching to a professional account, you gain access to analytics such as post reach, engagement, and follower demographics.
These insights provide valuable data to help you refine your content strategy and better understand your target audience.
Additionally, a professional account allows you to add contact buttons to your profile. This makes it easier for potential clients to reach out for inquiries or bookings.
5. Using Instagram Stories to Share Behind-the-Scenes
Instagram Stories provide an excellent opportunity to share your creative process and engage with your audience in real-time.
Image credits: 1. https://www.instagram.com/jeny_professional_makeup/
2. https://www.instagram.com/d.hairglow/
3. https://www.instagram.com/hairmony_gh/
Use the "behind-the-scenes" feature to showcase your bridal styling techniques, from hair and makeup trials to on-location shoots.
This personal touch humanizes your brand and allows potential clients to connect with you on a deeper level. Experiment with features like polls, quizzes, and question boxes to encourage audience interaction and gather feedback.
Conclusion
Instagram has transformed into a powerful platform for showcasing bridal styling work and attracting potential clients. By implementing these five brilliant strategies, you can optimize your Instagram profile as a portfolio that captivates and engages your audience.
Remember to craft an engaging bio, curate an eye-catching feed, utilize Instagram stories and highlights, and take advantage of the enhanced insights offered by a professional account.
With consistent effort and a creative approach, your Instagram portfolio will undoubtedly help you stand out in the competitive bridal styling industry!
This blog is written by Pranit Kamble from the Socinova Team. Images have copyrights of the respective owners.